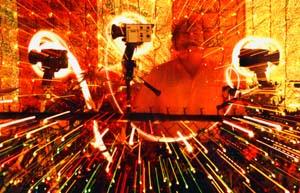 Time Exposure with three Eumig Super-8 Cameras
Multiple Super-8 Cameras
For more Information
on my 20 plus years
making films and videos,
please visit Alex LOGIC.
I am also an ideas person,
and an excellent collaborator.
I recommend having at least 3 or 4 of the same Super-8 camera model before attempting to shoot a Super-8 feature film. Make sure all of these Super-8 cameras work properly before attempting to make your feature film.

Three or four matching Super-8 cameras will probably increase the likelihood that look of your project will match from camera to camera. However, the primary reason to own 3 or 4 Super-8 cameras before attempting to shoot a Super-8 feature is that virtually no one in the world will fix a Super-8 Camera quickly, unless you have a special contact or friend who will do it and lives nearby.

Your extra Super-8 cameras can also come in handy for certain shots or scenes in which you may only get to do one or two takes and decide to have two or more cameras running for that particular scene. Many times stunt scenes will have several cameras running at that same time so that a successful stunt doesn't have to be repeated.

Super-8 cameras are very inexpensive and usually you can find more than one of the same camera model. However, beware that many times the super-8 cameras sold on eBay may be in need of a servicing or repair from a qualified technician. Super-8 technicians are few and far between so although you can find the cameras, getting them serviced can be tricky.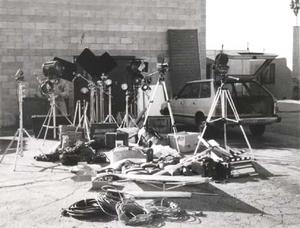 All that film Equipment fit in a Subaru!
Accessories for your Cameras
The more super-8 cameras of the same make and model that you find, the easier it will be to carry the necessary camera accessories that will fit on all of your cameras. These super-8 camera accessories include lens shades, wide angle attachments, filters, lens caps, tripods, and for the really serious a camera blimp. It saves time to be able to switch cameras and be able to use the same accessories.

If your main super-8 camera stops working, all of the main camera accessories can then be easily put onto the back up cameras. Should you use more than one camera for your film shoot, consider keeping all the film shot with each camera together. When transfers to video are done, one can avoid the inevitable frame line differences and possible lens coating differences that produce a different look from each super-8 camera.

To the right is lighting equipment that was used on a low Budget Super-8 film.